This vegan cheesecake recipe has been supplied by  Nestle Carnation.  You can find more recipes that use the Carnation range of products at Baking Supplies & Tasty Baking Recipes | Carnation
This recipe can be made the day ahead and chilled overnight, just adding the Salted Caramel sauce before serving.  Great served with raspberries or blackberries on the side.
Vegan Vanilla Cheesecake with Salted Caramel Sauce
Preparation Time: 30 mins
Chilling Time: 2 hours or overnight
Serves 12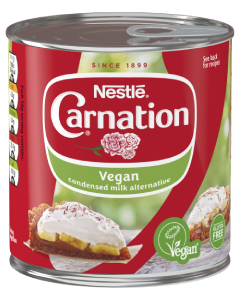 You will also need an 18cm loose bottomed cake tin, greased or 12 small glasses to serve
Ingredients –
For the Base:
175g Vegan cookie sandwich biscuits
25g Vegan butter alternative, melted (such as Stork baking block)
For the Filling:
100g Carnation Vegan Condensed Milk Alternatives
600g Vegan cream cheese alternatives (Such as Violife)
2tsp Vanilla Bean Paste
For the Salted  Caramel Sauce
170g Carnation Vegan Condensed Milk Alternatives
25g Vegan butter alternative
3tbsp Vegan milk alternative (or vegan cream if you have it)
3tbsp Light brown soft sugar
Pinch of flaky sea salt
Method
Place the biscuits in a bowl or bag and bash with a rolling pin until finely crushed. Alternatively place in a blender and whizz until finely crushed.  Tip the crumbs into a bowl.
Place the 25g vegan butter into a bowl and microwave until melted, then stir into the crushed biscuits until well mixed.  Press the crumbs into the base of the cake tin or spoon into glasses.  Chill while the filling is being made, about 10 minutes.
Beat 600g cream cheese with an electric whisk until smooth.  Then mix in 100g Carnation vegan condensed milk alternative and the vanilla bean paste. Spoon the mixture on top of the biscuit base, even out with the back of the spoon and chill for 2 hours or overnight.
To make the caramel, put the Carnation vegan condensed milk alternative, the vegan butter, 3tbsp of vegan milk or cream, the light brown sugar and the pinch of sea salt in a non-stick pan and bring to a rapid boil, then bubble for 2-3 minutes. Allow to cool slightly, enough to be able to taste it adding more salt if necessary.  Drizzle the sauce over the cheesecake just before serving.
Allergens in this dish indicated by the Box (es) Marked 'x'
Celery

Crustaceans

Dairy (Milk)

Egg

Fish

Gluten

Lupin

☐

☐

☐

☐

☐

☒

☐

Molluscs

Mustard

Peanuts

Sesame

Soya

Sulphites

Tree Nuts

☐

☐

☐

☐

☐

☐

☐